Skip Navigation
Website Accessibility
Harvest House Quilting - Sew What's New
SEW WHAT'S NEW
May 12, 2016


With all the rain we have been getting we can certainly enjoy all the beautiful flowers popping their heads up, lilacs are blooming, the grass is a gorgeous shade of green and the birds are flitting all over..... I do love the changes of the seasons and what each season brings to our area! I would not change or trade a single season for all warm weather - each brings it's own majesty to our wonderful color palette. Funny how we can enjoy and certainly savor this season but with quilting and sewing we are already looking to fall and winter projects. Stop in the shop and see some of the beautiful seasonal fabrics we carry all year long - never too early to get started on those projects.

Watch for upcoming information on a BIG "personal" stash sale which will include: beautiful fabrics
buttons (new on cards)
sewing machines
knitting yard (new)
and much more!


Just a few NEW PRODUCTS

1. RFID Cloth -your asking what is RFID Cloth? It is a 42"/43" wide cloth made from 23% copper, 27% nickle and 50% polyester which equals 99.99% shielding efficiency against personal and credit card information theft! This fabric blocks the radio waves from collecting your information. Easily line a wallet or purse/tote bag with the RFID cloth to protect your personal and credit card information from being stolen. Handwash or clean with a cool wet cloth - no bleach or ironing. $22.00 yard - a bit pricey but what you save from having your personal/credit card information stolen is priceless! We have this in stock today!

2. A few of the many new fabrics that have arrived - these are beautiful and I can think of "sew" many projects to make from them..... how about you?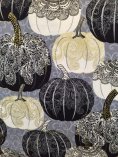 Beautiful Pumpkin fabric with metallic swirls - a lot of character and elegance

Wine label fabric - great for runners, mats and bottle gift bags...

Quilt Gate medallion fabric - gold accents - beautiful and ready to fussy cut

Wing & a Prayer panel - six verses and accent blocks - wonderful for gifts


Upcoming Classes and Girls Night Out

RULER RIOT - Girls Night Out
Join us for a fun evening of ruler demos ... learn new techniques with great rulers that will make your piecing easier! We all love our rulers and many times don't use them correctly or to their full advantage.... this will be a fun filled evening with the demos of TEN rulers, wine and cheese and enjoying other quilters/sewers company. Door prizes plus 10% discount on all rulers purchased
COST: $8.00
NEEDED: Bring a friend
WHEN: Friday, May 20th - 6 - 9pm CALL TODAY TO GET REGISTERED!



SCRAP CRAZY 6" CRAZY QUILT (Wall hanging size or larger)
Please note: Date correction
This is a beautiful wall hanging that is done up in vibrant scraps and embellished with decorative stitches build in your sewing machines. Quick and easy with the Scrap Crazy 6" ruler set and just one of many designs that can be made with this ruler set. Join us for a "crazy" fun day and create a wonderful wall hanging or quilt! Sample on display in shop
COST: $14.99
NEEDED: Fabric scraps, Sewing machine, rotary cutter, scissors, piecing thread and assorted colors to match your fabrics for embellishing, general sewing supplies.
WHEN: Friday, May 27th - 10am -2pm
INSTRUCTOR: Kathy Becker and Judy Grandys CALL TODAY TO GET REGISTERED!



TUFFET (foot stool) (2 sessions) ADDED CLASS
Tuffets are a beautiful and functional accent to any home decor. Make them for gifts for special occasions including weddings, new babies, anniversaries or just because. Tuffets look great in any fabric colors and any fabric can be used from cottons to men's ties and everything in between - Let your creativity come alive and create that one-of-a-kind useful piece of furniture for your home. Sample on display in the shop
COST: $25.00 (supply list available upon registration) We have the foam, board bases, patterns, upholstery needles, large button and feet available in the shop for your purchase which is approx. $135.00 plus your fabric)
NEEDED: Sewing machine, rotary cutter, scissors, thread, general sewing supplies.
WHEN: Friday, June 17th and June 24th - 6 - 9pm
INSTRUCTOR: Colleen Plucinski CALL TODAY TO GET REGISTERED!


Blessing and Happy Quilting!
Colleen, John and Staff
24231 Apple Tree Lane
Plainfield, IL 60585
815-609-5831
hhquilting@comcast.net
Visit us on Facebook!


Click to visit Harvest House Quilting!